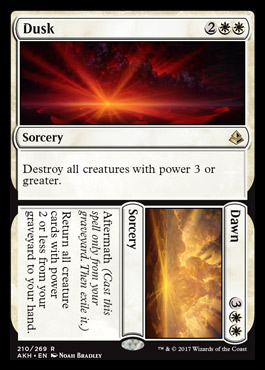 Dusk // Dawn
2WW // 3WW
Sorcery
Dusk
Destroy all creatures with power greater or equal to 3.
Dawn
Aftermath - Cast this spell only from your graveyard, then exile it.
Return all creature cards with power less than or equal to 2 from your graveyard to your hand.
Illus. Noah Bradley
Well ............ thats a new thing. But what the fuck was wrong with the split-card design?