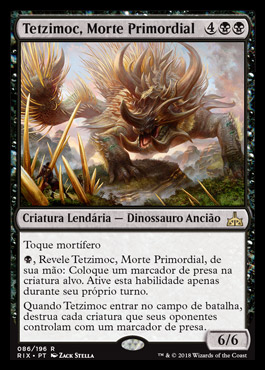 Tetzimoc, Death Primordial
Legendary Creature - Elder Dinosaur
Deathtouch
B, Reveal Tetzimoc, Death Primordial from your hand: Put a "Prey" counter on target creature. Only activate this ability during your turn.
When Tetzimoc, Death Primordial enters the battlefield, destroy all creatures with a "Prey" counter on them.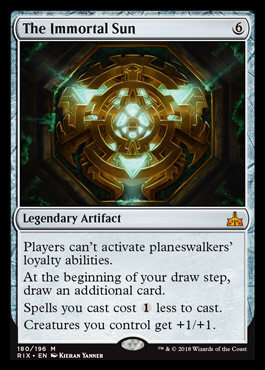 The Immortal Sun
Legendary Artifact
Players can't activate Loyalty abilities of Planeswalkers.
At the beginning of your draw step, draw an additional card.
Spells you cast cost 1 less to cast.
Creatures you control get +1/+1.