http://magic.wizards.com/en/articles/archive/card-preview/promised-hour-2017-06-27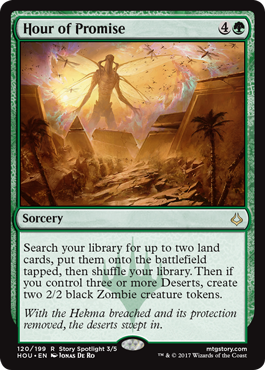 So that's any 2 lands, tapped, and occasional zombies.
It's kind of the peak of the land search cmcs that I'd consider running outside of Maelstrom Wanderer but probably ok for that because you're not hitting it turns 2-3 with artifact mana too often.
If I wanted to run non-basic TOTTB effects, I'd probably run this and forget about the zombies. Also fairly sure that it will not effect standard to the extent that the price blows up so it''s likely a dollar-bin rare.
I'm ok with this card.