scatteredsun wrote:
oops, forgot about the other Rivals thread. Now there's Rival Rivals of Ixalan threads.
This thread to-the-death (or until a Mod merges threads...)
zimagic wrote:
scatteredsun wrote: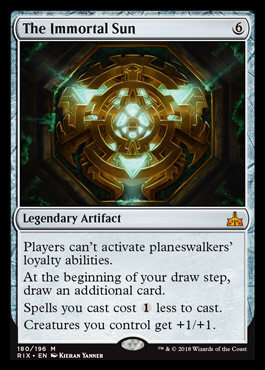 I'm trying to rationalise my dislike for this card over and above it simply hosing one of my decks and I think saying it hoses a complete card type is enough of a reason.
Luckily, outside of against PW heavy decks, it's just incidental hosing, but I can't say I'm a fan of the smorgasboard of bonuses in addition to hosing a particular card type.
I'm trying to understand how much I disagree with this assessment. I love this card.
In the last 5+ yrs, the "anthem effect" has become the "cantrip text" for rare/mythic artifacts (e.g.
Spear of Heliod
- oh it's legendary, lets add anthem to that unique effect;
Vanquisher's Banner
,
Caged Sun
,
Eldrazi Monument
, etc.)
I've long wanted a single
Howling mine
and Medallion effect (kind of the artifact equiv. of
Rites of Flourishing
). I'm not a Planeswalker fan (not that I dislike them, I just think they are very over-used - at least on MTGO). I think I would like this more if the loyalty-hosing effect was moderated a bit (so it wasn't such a big target), but mostly I think its a great new addition.